Cassie Mandala,
PA-C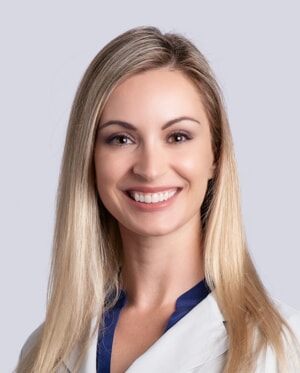 Position:

Physician Assistant to Dr. Vishal Mehta
About Cassie
Cassie is a licensed, board-certified physician assistant (PA) who works alongside Dr. Mehta in the treatment and prevention of orthopedic sports medicine conditions. She joined Fox Valley Orthopedics in 2007 after completing her Masters of Physician Assistant degree.
As a sports medicine provider, Cassie treats patients independently as well as first-assists Dr. Mehta in surgery. She treats conditions spanning from sprains and tendonitis to fractures and arthritis, in addition to ordering and interpreting x-rays and MRIs.
While she is trained to treat all orthopedic conditions, Cassie has a focus on shoulder, knee and hip conditions. She has a special interest in "orthobiologic" procedures including platelet-rich plasma (PRP) and stem cell injections. She prides herself on offering her patients individualized treatment plans with the most natural approach possible. She has years of experience in biologic procedures and stays up-to-date on these cutting-edge treatments.
Spending time educating patients and other healthcare providers is important to Cassie. She enjoys presenting clinical research and teaching hands-on courses in the United States and internationally.
Cassie is a member of the American Academy of Physician Assistants (AAPA), Illinois Academy of Physician Assistants (IAPA), American Academy of Orthopedic Surgeons (AAOS), and Physician Assistants in Orthopedic Surgery (PAOS).
Cassie has lived in the Chicago suburbs her entire life. She is a mom to a young son and enjoys spending time with her husband and family outdoors. She loves yoga, hiking and horseback riding.
Fox Valley Orthopedic Research Foundation: Laboratory Coordinator
Rosalind Franklin University of Medicine and Science: Clinical Preceptor
Education
College
Bachelor of Science University of Illinois Urbana-Champaign

Master of Science in Physician Assistant Studies Rosalind Franklin University of Medicine & Science

Physician assistants are versatile clinicians in our practice. They can perform physical examinations, diagnose and treat orthopedic injuries, order and interpret lab tests, perform minor procedures, assist in surgery, and provide patient education. They extend the ability of our surgeons to care for our patients. PA-C is an acronym for Physician Assistant – Certified, meaning they have their own medical licenses and have passed the Physician Assistant National Certifying exam, among other requirements, before receiving the medical license designation "PA-C".