VISIT OUR NEW PHYSICAL THERAPY LOCATIONS

Yorkville - 1500 Sycamore Road
Located just off US Route 34

Huntley - 13308 Village Green Drive
Located next to Jewel across from Del Webbs Sun City

Aurora - 1444 N. Farnsworth Ave.
Located south of Interstate 88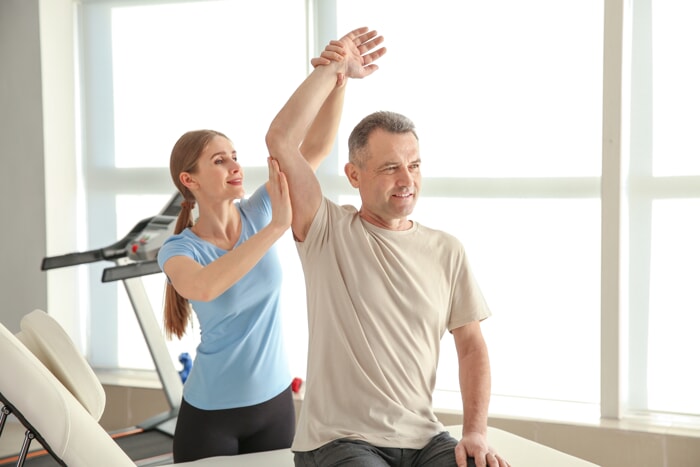 Physical Therapy & Occupational Therapy in Algonquin, Barrington, Huntley, Aurora, Elgin, Geneva & Yorkville
Let's Move Forward Together
Comprehensive Care Close To Home
What makes Fox Valley Orthopedics unique is its seamless delivery of care. From physician to physical therapist, our team is dedicated to get you moving and on the road to recovery and independence.
Physical and occupational therapy is specialized care to help build muscles, improve range of motion and restore function. Whether you are recovering from a fracture, surgery or suffer from joint pain, our outpatient rehabilitation team will develop a comprehensive treatment plan customized to fit your needs.
Our therapists are trained to evaluate your condition and provide cost-effective, customized therapy. Strength, range of motion, flexibility, balance and joint mobility are just some of the areas developed, as well as neurological function and pain.
Our Therapists Can Help With:
ACL/meniscus pain
Arthritis and fibromyalgia
Balance and vestibular training
Chronic pain
Foot and ankle conditions and injuries
Hand and upper extremity conditions and injuries
Joint conditions and pain
Hip, knee and shoulder conditions
Neck and back pain
Plantar fasciitis
Shoulder instability, rotator cuff tears, frozen shoulder & bicipital tendonitis
Sports injuries
Spinal disorders such as low back pain, cervical pain, spinal stenosis, post-op spinal surgeries, spinal disc disorders, and sacroiliac dysfunction
Prosthetic education and training
Wheelchair mobility and assessment
Work-related injuries
Our dedicated specialists are here to help you. To schedule a physical therapy appointment, contact us at 833-FVO-PTOT (833-386-7868).
We use a variety of physical therapy techniques, including:
Strength training
Massage
Heat or ice application
Muscle stimulation
Exercise
Education
Joint mobilization
Educated & Licensed To Get You Moving
All of our physical and occupational therapists have master's and/or doctorate levels of education, and are licensed to practice in the state of Illinois. In addition, therapists have received specialized training/education in the musculoskeletal system and injuries to ligaments, tendons, muscles and bones.
Insurances Accepted
Most major medical insurances are accept. Please check with us when making your appointment.
Located At
Algonquin
2971 W. Algonquin Rd., Suite 101 B, Algonquin, IL 60102
NOW OPEN - Aurora
1444 N. Farnsworth Ave., Aurora, IL 60505
Barrington
420 W. Northwest Hwy., Suite B, Barrington IL 60010
Elgin – Lin Lor
1975 Lin Lor Ln., Plaza Suite, Elgin, IL 60123
Elgin – Randall
1710 N. Randall Rd., Suite 160 Elgin, IL 60123
Elgin – Royal
2350 Royal Blvd., Suite 700 Elgin IL 60123
Geneva – North
2535 Soderquist Ct., Geneva IL 60134
Geneva – South
2525 Kaneville Rd., Geneva IL 60134
NOW OPEN - Huntley
13308 Village Green Dr., Huntley, IL 60142
NOW OPEN - Yorkville
1500 Sycamore Road, Suite 1, Yorkville, IL 60560


Hours of Operation
Monday – Friday 7 a.m. - 7 p.m.
Saturday & Sunday – Closed
To make an appointment, call
833-FVO-PTOT (833-386-7868)