Jarod Schieler,
PA-C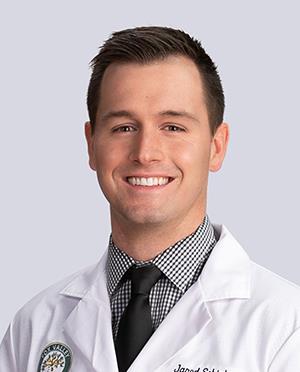 Position:

Physician Assistant to Dr. James Seeds
About Jarod
Jarod is a licensed, board-certified physician assistant who works alongside Dr. Seeds in the treatment and prevention of orthopedic sports injuries. Jarod joined the practice in 2021, and sees all orthopedic injuries with a focus on knee, shoulder and hip.
As a physician assistant, Jarod evaluates and treats patients independently and acts as a first-assist in surgical cases with Dr. Seeds. He treats conditions spanning from sprains and tendonitis to fractures and arthritis. He also routinely orders and interprets X-rays in the office and coordinates more advanced imaging such as MRI or CT scans as needed.
Jarod has earned the Basic Cardiovascular Life Support certification, as well as the Pediatric Advanced Life Support. Jarod is a member of the Illinois Academy of Physician Assistants (IAPA), American Academy of Physician Assistants (AAPA), and Physician Assistants of Orthopedic Surgery (PAOS).
Jarod enjoys spending time with his wife, puppy, family and friends. Outside of work Jarod has a passion for developing soccer players of all ages with over a decade of coaching experience. Additionally, Jarod likes to cheer on his favorite sports teams, Manchester United and the Chicago Bears (despite his wife being a die-hard Green Bay Packers fan).
Education
College
Bachelor of Science: Biochemistry, minors in Psychology and Spanish Judson University
Elgin, IL
Master of Science in Physician Assistant Studies University of Colorado Anschutz Medical Campus
Aurora, CO
Physician assistants are versatile clinicians in our practice. They can perform physical examinations, diagnose and treat orthopedic injuries, order and interpret lab tests, perform minor procedures, assist in surgery, and provide patient education. They extend the ability of our surgeons to care for our patients. PA-C is an acronym for Physician Assistant–Certified, meaning they have their medical licenses and have passed the Physician Assistant National Certifying exam, among other requirements, before receiving the medical license designation "PA-C".