Jessica Clark,
PA-C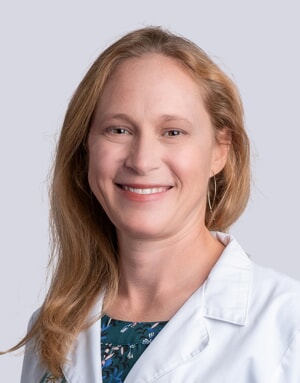 Position:

Physician Assistant to Dr. Timothy Petsche
About Jessica
Jessica is a licensed, board-certified physician assistant (PA) who works alongside Dr. Petsche in the treatment and prevention of sports medicine conditions and injuries. Jessica joined Fox Valley Orthopedics in 2006 after spending several years as a sports medicine PA at the University of Iowa. In that role, she had the opportunity to treat athletes of all levels, including many who went on to play professionally. She treats all orthopedic injuries, focusing on knee, shoulder, and hip.
As a PA, Jessica evaluates and treats patients independently, and assists Dr. Petsche in surgery. She treats a variety of injuries/conditions, including rotator cuff and meniscus repairs, fractures, sprains, strains, dislocations, and arthritis, in addition to ordering and interpreting X-rays/MRI results.
Jessica works closely with athletes of all ages to help them meet and exceed their goals. This is accomplished through the prevention, treatment and rehabilitation of emergent, acute or chronic injuries and medical conditions. She uses a variety of nonsurgical treatment methods, including occupational/physical therapy and regenerative orthopedic ultrasound-guided injections -- cortisone, platelet-rich plasma, and adipose-derived stem cell therapies.
As an athlete and avid outdoorswoman, Jessica enjoys running, and taking her husband and two kids on mountain biking, hiking, and kayaking adventures.
Education
College
Bachelor of Science University of Northern Iowa

Master of Science in Physician Assistant Studies Rosalind Franklin University of Medicine & Science

Physician assistants are versatile clinicians in our practice. They can perform physical examinations, diagnose and treat orthopedic injuries, order and interpret lab tests, perform minor procedures, assist in surgery, and provide patient education. They extend the ability of our surgeons to care for our patients. PA-C is an acronym for Physician Assistant – Certified, meaning they have their own medical licenses and have passed the Physician Assistant National Certifying exam, among other requirements, before receiving the medical license designation "PA-C".