Raheem M. Nazeer,
MD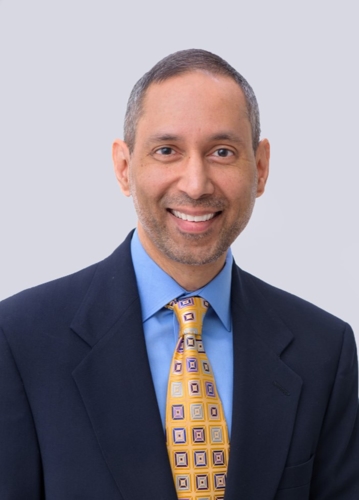 About Dr. Nazeer
Rheumatology Specialist
Dr. Nazeer is a board-certified physician who specializes in rheumatology. He takes a comprehensive approach to the diagnosis, management and treatment of rheumatic diseases. He treats a wide range of conditions and diseases, including:
Inflammatory arthritides such as rheumatoid and psoriatic arthritis, gout and pseudogout
Connective tissue diseases such as lupus, scleroderma, Sjogren's syndrome
Inflammatory muscle diseases
Osteoarthritis
Osteoporosis
Raynaud's syndrome
Tendonitis
Vasculitis
Dr. Nazeer closely collaborates with Primary Care practitioners, and other specialist such as orthopedic, physical and occupational rehabilitation, neurosciences and diagnostic radiology.
Dr. Nazeer enjoys leisure biking with his family on the Fox Valley bike trails, savors various ethnic cuisine, and is passionate about all things espresso.
Board Certification
American Board of Internal Medicine - Rheumatology
Memberships:
Fellow, American College of Rheumatology
Member, International Society of Clinical Densitometry
Hospitals:
Staff, Advocate Sherman Hospital, Elgin IL
Staff, Northwestern Medicine, Delnor Hospital, Geneva IL
Staff, Fox Valley Orthopedics, Ambulatory Surgery Center, Geneva IL
Affiliations
Geneva North Office,
Elgin Lin Lor Office
Education
College
Augustana College

Rock Island, IL
Medical School
Rush Medical College

Chicago, IL
Residency
Rush-Presbyterian-St. Luke's Medical Center

Chicago, IL
Fellowship
University of Texas Southwestern Medical School

Dallas, TX
Hospitals:
If you have any questions regarding your bill or insurance coverage, please contact one of our Patient Account Specialists at (630) 513-2620.
Insurances Accepted:
AETNA PPO
AETNA HMO
AETNA Choice
AETNA EPO
AETNA POS
AETNA Open Access
AETNA Medicare Rep
AETNA Student Res
AETNA MMAI
ALLEGIANCE PPO
ALLIED BENEFIT SYSTEMS PPO
BEECHSTREET PPO
BLUE CROSS BLUE SHIELD PPO
BLUE CROSS BLUE SHIELD EPO
BLUE CROSS BLUE SHIELD HMO FV Med
BLUE CROSS BLUE SHIELD HMO Advocate
BLUE CROSS BLUE SHIELD Comm. MMAI
BLUE CROSS BLUE SHIELD Medicare Adv
BLUE CROSS BLUE SHIELD Medicare Adv PPO
BLUE CROSS BLUE SHIELD Medicare Advantage HMO
BLUE CROSS BLUE SHIELD Northwestern HMO
BLUE CROSS BLUE SHIELD Presence (AMITA) HMO
CIGNA PPO
CIGNA HMO
CIGNA EPO
CIGNA POS
CIGNA Open Access
CIGNA HEALTHSPRING TRUE Choice PPO
CIGNA ONE HEALTH HMO
COFINITY PPO
CORVEL PPO
COVENTRY PPO
COVENTRY HMO
ECHO 1 PPO
ECHO 3 PPO
FIRST HEALTH PPO
GALAXY PPO
GOLDENRULE PPO
GREATWEST PPO
GREATWEST HMO
GREATWEST POS
GREATWEST EPO
GREATWEST Open Access
HEALTH ALLIANCE PPO
HEALTHLINK Advocate PPO
HEALTHSMART PPO
HFN PPO
HFN EPO
HUMANA PPO
HUMANA EPO
HUMANA HMO Select
HUMANA POS
HUMANA Open Access
HUMANA Advocate HMO
HUMANA Medicare Adv HMO
MEDISHARE PPO
MERITAIN PPO
MULTIPLAN PPO
MULTIPLAN Medicare Advantage
NPPN (national preferred provider network) PPO
PBA PPO
PHCS PPO
PPO NEXT PPO
PRIORITY HEALTH PPO
SAVILITY PPO
SMARTHEALTH PPO
TRICARE PPO
TRICARE Humana Select HMO
UHC PPO
UHC HMO
UHC POS
UHC Choice
UHC Choice Plus
UHC Select
UHC Medicare Rep
UHC Care Imp +
UHC All Savors
UHC W500
UHC Medicare Advantage HMO
UMR PPO
UNICARE PPO
VIANT PPO