Roshni Patel,
PA-C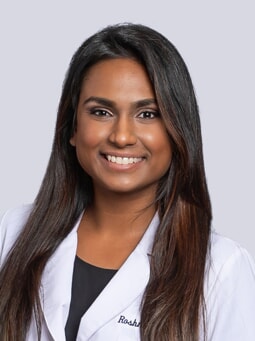 Position:

Physician Assistant to Dr. Craig Torosian
About Roshni
Roshni is a licensed, board-certified physician assistant who works alongside Dr. Torosian in the treatment and prevention of orthopedic hand, wrist and elbow injuries. Roshni joined the practice in 2021 after completing her masters at the Massachusetts College of Pharmacy and Health Sciences. She sees all orthopedic injuries with a focus on the hand, wrist and elbow injuries.
As a physician assistant, Roshni evaluates and treats patients independently and assists Dr. Torosian in surgery. She manages conditions such as carpal tunnel syndrome, trigger finger, fractures, tennis and golfer's elbow, work related injuries, and provides post-operative care. She routinely orders and interprets X-rays in the office and coordinates more advanced imaging such as MRI or CT scans as needed. She also works closely with patients on occupational therapy.
Roshni has earned the American Heart Association Basic Life Support certification, as well as Advanced Cardiac Care Life Support. She is a member of the American Association of Physician Assistants.
Roshni enjoys playing tennis and badminton, traveling to new places, and spending time with family and friends.
Education
College
Bachelor of Science in Kinesiology with Concentration in Movement Science University of Illinois at Chicago
Chicago, IL
Master of Science in Physician Assistant Studies Massachusetts College of Pharmacy and Health Sciences
Boston, MA
Physician assistants are versatile clinicians in our practice. They can perform physical examinations, diagnose and treat orthopedic injuries, order and interpret lab tests, perform minor procedures, assist in surgery, and provide patient education. They extend the ability of our surgeons to care for our patients. PA-C is an acronym for Physician Assistant–Certified, meaning they have their medical licenses and have passed the Physician Assistant National Certifying exam, among other requirements, before receiving the medical license designation "PA-C".