Ryan M. Unger,
MD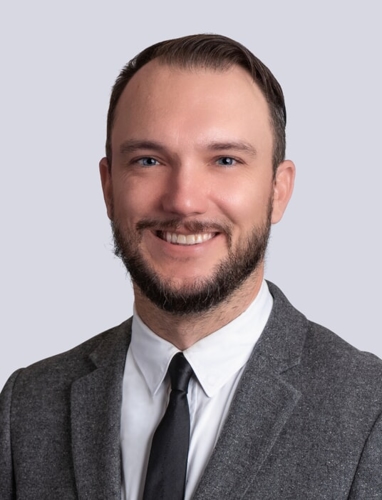 About Dr. Unger
Physical Medicine and Rehabilitation Specialist
Dr. Unger is a board-certified physician who specializes in physical medicine and rehabilitation. He evaluates and treats a wide range of pain disorders, including:
Direct tissue injury, such as arthritis, osteoarthritis and rheumatoid arthritis
Nerve injury or a nervous system disease, such as stroke, multiple sclerosis, spinal cord injury, and neuropathy (nerve pain due to past surgeries, shingles, or diabetes)
Tissue and nerve injury, such as back pain
Pain due to cancer
Neck pain
Headaches
Communications is key to diagnosing pain, and Dr. Unger works closely with patients to find the root cause. His in-depth knowledge of pain disorders and using different diagnostic tests to pinpoint the cause of pain is critical in the implementation of a customized treatment plan. All procedures are done on an outpatient basis, and diagnostic tests such as X-rays and MRIs can be performed at Fox Valley Orthopedics.
Dr. Unger uses several methods to treat pain, including medications (anti-inflammatories, muscle relaxants, anti-depressants), injections to numb pain (nerve blocks or spinal injections) and physical therapy. He also specializes in:
*Radiofrequency ablation (RFA) or lesioning - A non-surgical, minimally invasive procedure where heat is used to ablate or damage pain-transmitting nerve fibers. The RFA reduces or permanently decreases the transmission of painful information to the brain from the knee. This procedure is often used to treat knee and spinal osteoarthritis.
*Regenerative medicine, such as platelet-rich plasma and stem cells, to alleviate chronic pain - Depending on diagnosis, this can be used for a variety of joint, tendon, ligament and spinal conditions.
A tortured Cleveland Browns fan, Dr. Unger enjoys watching sports, traveling with his family, and taking care of his two daughters.
"Dr Unger was very professional..." Click Here to Read More Patient Testimonials
Meet My Team
Affiliations
Elgin Lin Lor Office,
Geneva North Office,
Geneva South Office
Education
College
Bachelor's Degree of Science in Biology John Carroll University
University Heights, OH
Medical School
Northeast Ohio Medical University
Rootstown, OH
Residency
Physical Medicine and Rehabilitation Residency Loyola University Medical Center
Chicago, IL
Board Certification
Board Certification by The American Board of Physical Medicine & Rehabilitation
Memberships:
Member of American Academy of Physical Medicine and Rehabilitation
American Academy of Physiatrists
Hospitals:
If you have any questions regarding your bill or insurance coverage, please contact one of our Patient Account Specialists at (630) 513-2620.
Insurances Accepted:
AETNA PPO
AETNA Choice
AETNA EPO
AETNA POS
AETNA Open Access
AETNA HMO
AETNA MMAI
ALLEGIANCE PPO
ALLIED BENEFIT SYSTEMS PPO
BEECHSTREET PPO
BLUE CROSS BLUE SHIELD EPO
BLUE CROSS BLUE SHIELD HMO FV Med
BLUE CROSS BLUE SHIELD PPO
BLUE CROSS BLUE SHIELD Medicare Adv PPO
BLUE CROSS BLUE SHIELD Medicare Advantage HMO
BLUE CROSS BLUE SHIELD Northwestern HMO
CIGNA PPO
CIGNA POS
CIGNA HMO
CIGNA ONE HEALTH HMO
COFINITY PPO
CONVENTRY HMO
CORVEL PPO
COVENTRY PPO
ECHO 1 PPO
FIRST HEALTH PPO
GALAXY PPO
GOLDENRULE PPO
GREATWEST PPO
GREATWEST HMO
GREATWEST POS
HEALTHSMART PPO
Healthspring True Choice PPO
HRM PPO
HRM EPO
HUMANA EPO
HUMANA Medicare Adv PPO
HUMANA Medicare Adv HMO
Medicare Advantage
MEDISHARE PPO
MERITAIN PPO
MULTIPLAN PPO
MULTIPLAN Medicare Advantage
NPPN (national preferred provider network) PPO
PBA PPO
PHCS PPO
PPO NEXT PPO
PRIORITY HEALTH PPO
SAVILITY PPO
SMARTHEALTH PPO
TRICARE HMO HUM.SEL.
UHC Choice Plus
UHC PPO
UHC HMO
UHC POS
UHC Choice
UHC Select
UHC Medicare Advantage HMO
UMR PPO
UNICARE PPO
VIANT PPO
ZING Medicare Rep