Fox Valley Orthopedic Physicians, Staff & Patients Help the Less Fortunate Gifts of Hope provides a very Merry Christmas for Fox Valley Families
Always first in giving back, FVO physicians and staff donated their entire holiday gift fund to make sure Fox Valley families have gifts this holiday season.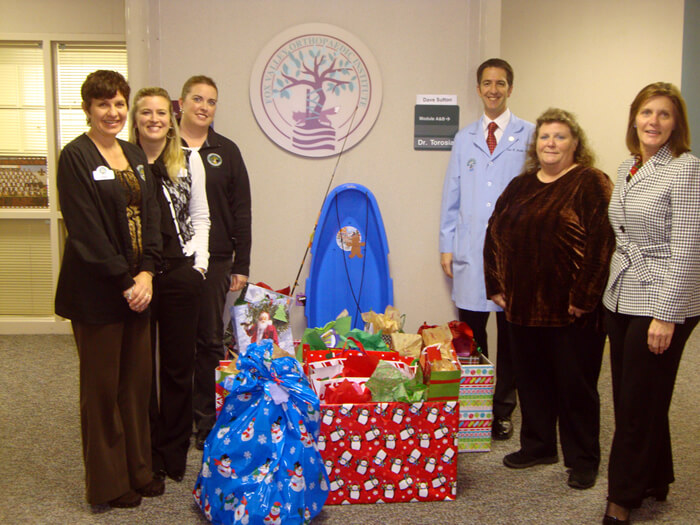 GENEVA (December 21, 2011) – For over twelve years, the staff at Fox Valley Orthopedics has been doing something special for their community at Christmas time. Instead of buying each other gifts, they collect presents to give to others instead.
For the second year, FVO participated in Breaking Free's holiday gift adoption program, to ensure children in need would receive something at Christmas. Many of FVO's patients also contributed to the Gifts of Hope Program. Together, they'll put presents under four trees this holiday season, helping fifteen children with all their Christmas wishes.
"FVO is honored to be involved in such a worthy cause," says Mary O'Brien, FVO's chief executive officer. "The community has given us so much that we feel privileged to be able to give back to families in this way."
Established thirty years ago, Breaking Free Inc. is a not for profit organization committed to helping individuals and families reach their full potential. In 2008, the group established The Gifts of Hope Program, a holiday gift adoption service for families attending one of Breaking Free's many programs. The most needy families from each program are chosen, and all the necessary information provided to organizations and individuals willing to "adopt" these children for Christmas.
One of the Gifts of Hope Program recipients this year is a single mom trying to get her life back on track. A mother of five children – ranging between six years and nine months of age – the Aurora mother is extremely appreciative of what Breaking Free's Gifts of Hope Program has given her this Christmas season.
"Words cannot express how this makes me feel," she says. "Now I know my kids will have a Christmas because with the times being so tough, I couldn't afford to give them one on my own."
Each year, participating organizations and individuals commit their time and donations to Breaking Free's Gifts of Hope Program. This year, Fox Valley Orthopedics, United Healthcare Systems, Volt Technical Resources, DuKane A.B.A.T.E. Motorcycle Food and Toy Run, Rejoice Lutheran Church Congregation in Geneva, and Dr. Mark J. Glessener from Fox Valley Chiropractic in St. Charles, have given their support.
With the collaboration of organizations such as FVO, Breaking Free has helped strengthen the lives of 15,000 people each year through its compassion, dedication, and education. To help by purchasing gift cards or adopting one or more children next holiday season, contact Karen at (630) 897-1003, extension 213, or at kmay@breakingfreeinc.org. Or go to the web site at http://www.breakingfreeinc.org.