Fox Valley Orthopedics Helps Kick Off CASA Kids' Marathon with $1.00-a-Mile Sponsorship
Fox Valley Orthopedics (FVO) continues its 40th-anniversary "Thanks in Motion" campaign by supporting the CASA Kids' Marathon event this summer with $1.00-a-Mile sponsorship. In addition to support for CASA kids participating in the run, the summer-long event offers FVO the opportunity to educate Fox Valley children about the importance of "Keeping It Moving."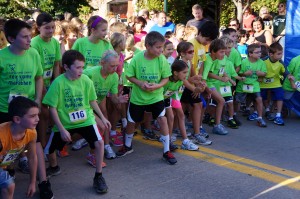 "It'll be kids running for kids in a marathon that will involve children and parents throughout our community," says Dr. Craig Torosian, medical director of Fox Valley Orthopedics, an avid runner.
Sponsorship of the CASA marathon is part of FVO's forty-week celebration to mark forty years in business. To celebrate, the organization planned forty weeks of special anniversary events, challenges, giveaways, inspirational patient stories, tips to "Keep It Moving," and other community initiatives – all designed to say thanks to the community and inspire people to keep moving and stay fit at every stage of life.
Open to children ages five to thirteen, for the first time in race history, the CASA Kane County Fox Valley Kids' Marathon is sold out. A record number of 500 registered participants will be given sixteen weeks over the summer to run or walk the first twenty-five miles.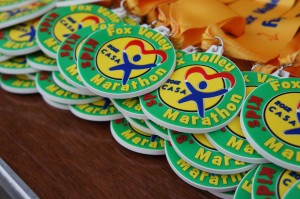 On Saturday, September 21st – race day – the celebratory final 1.2 miles will be completed. FVO staff will be on-site with mascot Doc Fox to cheer the kids on. Racers will receive a marathon t-shirt, medals, and photographs, and there'll be a post-race party.
For every mile that every child runs in the race, FVO will donate $1.00 to CASA. FVO is also taking the opportunity to educate Fox Valley children about the importance of "Keeping It Moving" with running tip postcards with sage advice such as the following:
"Skeleton" is Greek for "mummy"…and we don't mean daddy's wife! Your skeleton makes up 20% of your total body mass. Cover all 'dem dere' bones with loose-fitting clothing for the marathon…Cool clothes made from Nike's Dri-FIT, or similar materials, will keep you from getting all icky, sticky, and sweaty.
You have more than 650 muscles. Your bottom (gluteus maximus) is the largest muscle in your body. Make sure it doesn't get any larger by getting up off that couch and moving whenever possible! Throughout the year – before and after the marathon – stay active with activities such as baseball, basketball, lacrosse, martial arts, and swimming.
"We are thrilled that Fox Valley Orthopedics has joined CASA Kane County in supporting the Fox Valley Kids Marathon" says Lori Hewitt, CASA Kane County's director of development. "What a great way for children to continue to learn about health and fitness while raising awareness about the child abuse and neglect that is happening right here in Kane County. It also allows us to let people know how CASA volunteers play an important role in the lives of our kids."
This year's training runs take place every other Saturday, from 8AM to 9AM:
July 13, Fabyan East (at the Windmill), Geneva
July 27, Mt. St. Mary's Park, St. Charles
August 10, Fabyan East (at the Windmill), Geneva
August 24, Mt. St. Mary's Park, St. Charles
September 7, Fabyan East (at the Windmill), Geneva