Falling into Better Orthopedic Health
Category: Blog
Posted On:
Written By:

Fox Valley Orthopedics
Chronic Joint Pain Relief for Autumn
As the weather starts to cool down and the leaves begin to change color, many of us may start to feel a little ache in our bones. This time of year can be particularly tough for those dealing with chronic joint pain. Fortunately, there are things you can do to ease your discomfort.
Our specialists at Fox Valley Orthopedics are here to go over options available to help ease the pain and tips that can make the transition into autumn a little easier.
Treating Joint Pain Flare-Ups
Several treatment options are available for joint pain, including medication, physical therapy, and surgery. Surgery is considered the final option after more conservative methods have been unsuccessful or are no longer effective. While arthroscopic surgery is less invasive, no surgery is without risk entirely and we make every effort to utilize alternative measures as much as possible.
If you're struggling with increased soreness, stiffness, or pain, booking a consultation with a joint specialist can help you start your path to managing and relieving your symptoms.
Tips for Relief
In addition to seeking treatment for the cause of your joint pain, here are some tips for dealing with joint pain this autumn:
Get a head start on your fall yard work: you should try to maintain raking or shoveling in shifts and not wait until it becomes a much larger job.
Stay warm and dry: cold, wet weather can make joint pain worse, so dress in layers and take shelter from the elements when necessary.
Consider using assistive devices: Canes, walkers, and other devices can help take some of the weight off painful joints and make it easier to get around.
Eat an anti-inflammatory diet: fall foods like pumpkin, sweet potatoes, and leafy greens are all great choices that can help reduce inflammation.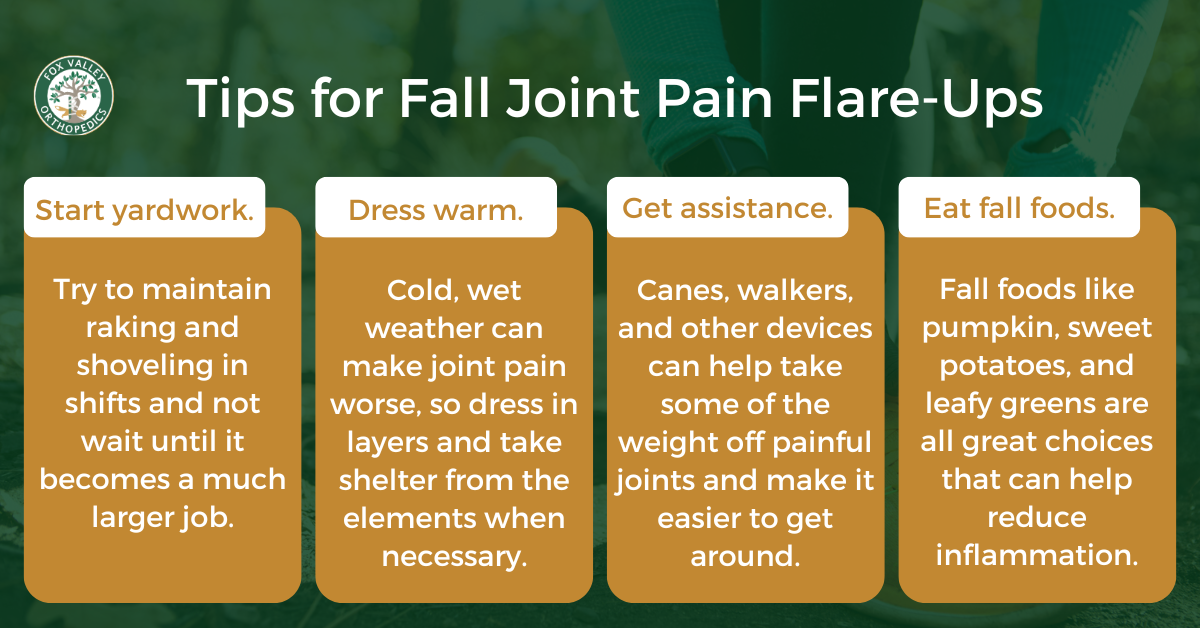 Preparing for Surgery
The fall season is a common time for patients to undergo orthopedic surgery because cooler weather and less sunlight can increase joint pain. Orthopedic surgeons often see an uptick in business in the fall as people look for relief from their chronic pain before the end of the year. If you're preparing for orthopedic surgery this autumn, here are some things you can do to get ready:
Follow your surgeon's pre-operative instructions to the letter.
Start doing some gentle exercises to strengthen the muscles around the joint that will be operated on.
Don't forget to take care of yourself mentally as well as physically.
Book a Consultation With Our Team
With a bit of preparation, patients with chronic joint pain can make it through the autumn months with minimal discomfort. If you're interested in treatment options, our team at Fox Valley Orthopedics is here to help.
To book a new appointment or consultation with our team, contact us today.