Fox Valley Orthopedics Uses a Pinch of Harry Potter Magic to Keep Athletes in the Game
Fastball, Fireworks & Treasure Hunting All Part of Harry Potter Night at Cougars' Stadium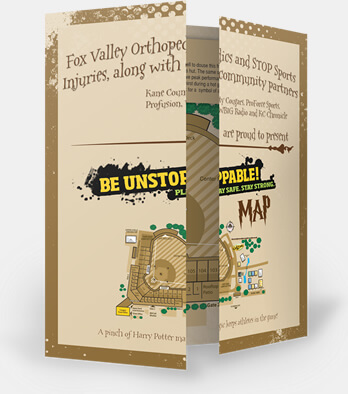 What does the wizardry of Harry Potter have to do with sports injury prevention? On July 27th at the Fifth Third Bank Ballpark, absolutely everything. To go along with the fastball and fireworks, Fox Valley Orthopedics will host a Harry Potter-themed treasure hunt – complete with map, location clues, and lots of prize giveaways – as part of Fox Valley Orthopedics' ongoing partnership with the STOP Sports Injuries campaign.
Harry Potter knows a little something about sports injuries. After breaking his arm during a Quidditch game, he returned to play using magic. Instead of magic potions, the orthopedic physicians at Fox Valley Orthopedics show athletes, coaches, and parents how to play safe and stay strong through prevention education. While learning about injury prevention, Harry Potter-themed treasure hunt participants will receive giveaways, and the chance to win prizes.

Clues will get hunt participants to each station where they'll receive their sports injury prevention tip along with support and giveaways from community partners Kane County Cougars, ProForce Sports, Profusion, WBIG Radio, and the KC Chronicle. Participants' names go into the drawing to win a sports performance training package from ProForce Sports, a gift pack from the Kane County Cougars, or the grand prize draw – an iPAD from Fox Valley Orthopedics. Winners will be announced at the end of the 5th inning.
"It's a fun way to educate kids about injury prevention," says Dr. James P. Sostak, a sports medicine orthopedic surgeon at Fox Valley Orthopedics. He'll be throwing the first pitch and – along with the clinic's mascot, "Doc Fox" – will help Cougar mascot Ozzie T. Cougar give out injury prevention tips down on the field during the middle of the 2nd inning.
The Harry Potter treasure hunt is one of numerous events Fox Valley Orthopedics is hosting to bring awareness to the rise in sports injuries. The goal of the STOP Sports Injuries campaign is to focus on sports safety among youth, and provide education to coaches and parents on how to work with athletes to prevent injuries.
"Over the years we've seen a dramatic increase in sports injuries, particularly in youth," says Dr. Kevan E. Ketterling, a sports medicine orthopedic surgeon at Fox Valley Orthopedics and team physician for the Cougars. "Athletes have gotten bigger and stronger and faster, which has led to an increase in traumatic injuries. But there's also a focus on specialization now, with kids playing one sports year around. This has led to an increase in overuse injuries, too."