Fox Valley Orthopedic Hires Podiatrist Dr. Joanna Chura to Complement Its Foot and Ankle Care Specialty
GENEVA, ILLINOIS — Fox Valley Orthopedics (FVO) – celebrating forty years of keeping the community moving – is pleased to announce the addition of a podiatrist, Dr. Joanna M. Chura, to its orthopedic health care team. The new hiring was catalyzed by the Group's continued growth and desire to practice prevention, reduce the need for secondary care, and provide the very best that foot and ankle care has to offer.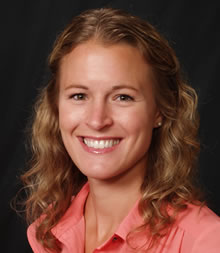 Dr. Chura received her Doctor of Podiatric Medicine (DPM) after completing a 36-month residency at the Hennepin County Medical Center in Minneapolis, Minnesota. Prior to this, she attended the Dr. William M. Scholl College of Podiatric Medicine in North Chicago, where she was ranked in the top twenty-five percentile of her class. Joanna Chura completed her Bachelor of Science degree at the University of Wisconsin Eau Claire.
"In light of the popularity of sports in this community, I think a podiatrist is just what the doctor ordered," says Dr. Chura, DPM, AACFAS. "Running, as well as many other sports, places a lot of stress on your feet. Preventive foot care can help keep you moving…and give your feet a hand up to carry you around for the rest of your life."
Together with the FVO team, Dr. Chura will help patients manage chronic and acute foot problems such as aching feet, athlete's foot, foot injuries, heel spurs, ingrown toenails, plantar warts, shin splints, and children's foot problems. She also performs elective foot surgery to correct problems such as flat feet and hammertoes, and to remove bunions.
Her expertise uniquely qualifies Dr. Chura to provide health education on foot problem prevention for athletes, diabetics, the elderly, and people with disabilities, as well as advice on athletic footwear, and assistance with any work place occupational health and safety issues patients may have.
"I'm looking forward to becoming a visible part of the FVO team…and the community," says Dr. Chura. "Volunteering – especially when it's something that may help bring awareness to issues of foot problem prevention – is a big part of what makes me who I am."