Fox Valley Orthopedics Launches 40th Anniversary Celebration By Saying Thanks "In Motion"
FVO Kicks Off 40 Weeks of Anniversary Surprises Starting with a Donation to the Bike + Rack = Art Program
GENEVA, ILLINOIS – Fox Valley Orthopedics (FVO) is gearing up for a forty-week celebration to say thanks, 'in motion', to its patients, staff, partners, and the community. To kick off the milestone anniversary, FVO is supporting the City of Geneva's Bike + Rack = Art Sculptural Bicycle Rack Public Art Program.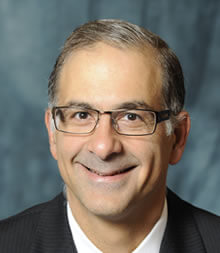 "Over the next forty weeks, we plan to say thank you in forty ways that inspire motion," says Dr. Craig Torosian, medical director at Fox Valley Orthopedics.
The Bike + Rack = Art Program encourages transportation via bicycle, fosters fitness, and provides inventive public art for permanent display in the downtown core. FVO will make a donation towards the first sculptural bike rack, which will be located in front of the Geneva History Center at 113 South Third Street. FVO will also help the city select a skilled artist to craft a functional bicycle stand depicting a life in motion.
"From the beginning, FVO has had a single driving vision," says Dr. Torosian. "Providing the best orthopedic care possible to help people get back to work, increase their mobility, return to sports, and keep doing what they love to do at every stage of life."
On March 29, FVO will begin rolling out forty weeks of special anniversary events, challenges, giveaways, inspirational patient stories, tips to "keep it moving," and other community initiatives – all designed to say thanks and inspire people to keep moving. Patients, partners and community members will have a chance to choose some of the ways in which Fox Valley Orthopedics will say thanks, 'in motion'.
"One in four Americans has a bone or joint health problem, and we're seeing a significant rise in sports injuries, too," says Dr. Kevan Ketterling, a sports medicine orthopedic surgeon at Fox Valley Orthopedics. "We're committed to continuing to make a difference through advanced care and prevention efforts in our community."
In 1973, FVO's founders – Drs. Eugene Wittenstrom and Merle Denker – recognized the need to offer Fox Valley residents access to specialized, high quality orthopedic care in their own backyard. Over the years, the group has continued to expand vital access to comprehensive sports medicine and orthopedic care, culminating in the recent launch of OrthoFirst™ – walk-in care for acute orthopedic injuries such as sprains and strains, broken bones, and sports injuries.
For forty years, FVO has kept the community moving, helping patients with their knees, shoulders, hips, back, ankles, feet, hands, wrists, joints and muscles. And, thousands of professional and amateur athletes have been able to get back in the game with specialized sports medicine care.
Here are a few of the many ways Fox Valley Orthopedics has helped keep the community moving with advanced orthopedic care, leadership, and community involvement:
Providing fellowship-trained orthopedic surgeons to Geneva area residents
Advancing orthopedics through sub-specialized care for every joint, bone, and muscle
Being active nationally in organizations such as the Illinois Association of Orthopedic Surgeons (IAOS)
Performing total joint surgery and minimally invasive arthroscopy; platelet-rich plasma (PRP) therapy to heal tendon and ligament injuries, and osteoarthritis; and cartilage restoration for repairing, regenerating, and replacing damaged cartilage
Being a leader in orthopedic research and development through FVORF.org
Providing free sports physicals for athletes at several area schools
Serving as team physicians for the Kane County Cougars and area high schools
Supporting local youth sports and charitable organizations
Participating in injury prevention partnership programs such as the STOP Sports Injuries and Decide to Drive campaigns