Fox Valley Orthopedics' Platelet-Rich Plasma (PRP) Offers Patients an All-Natural Way to Keep Swinging
New Research from the American Academy of Orthopedic Surgeons (AAOS) Shows PRP is Helping Athletes, Baby Boomers, and the Elderly with Sports Injuries and Chronic Joint and Muscle Pain
Fox Valley Orthopedics is one of the first practices in the area to treat patients with Orthopedic PRP to restore mobility and help athletes return to sports.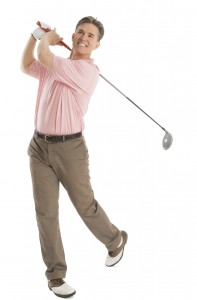 PRP, also known as ABI or Autologous Blood Injections, is an extremely promising solution for stimulating the healing of tendon and ligament injuries, and osteoarthritis. The treatment is gaining national notoriety in the field of sports medicine because it taps into the body's natural ability to heal itself, reduces recovery time, and lets individuals return to their normal activities more quickly.
PRP is gaining popularity as an effective treatment for tendinopathy (tendinitis or tendinosis) in a range of problem areas including the ankle (Achilles tendon), elbow (golfer's, pitcher's or tennis elbow), hamstring (buttock), heel (plantar fascia), hip (gluteal), and knee (patellar).
Today, celebrity athletes such as Pittsburgh Steelers wide receiver Hines Ward and safety Troy Polamalu, pro-golfer Tiger Woods, and Philadelphia Phillies pitcher Cliff Lee are singing the praises of innovative new blood plasma therapies for sports-related injuries.
PRP is not only for professional and amateur athletes; new research presented at the AAOS's annual meeting this spring shows PRP is successfully being used to treat an even broader range of orthopedic conditions including:
Chronic bursitis
Plantar fasciitis
Acute and chronic ligament pain
Hip pain
Osteoarthritis
Conditions associated with scarred or non-healing tissue
"These findings represent what I am seeing in my own clinic," says Dr. Vishal Mehta, a fellowship-trained sports medicine orthopedic surgeon at Fox Valley Orthopedics. "Using PRP therapy as an alternative or a complement to a broader range of surgical repairs means we'll be able to keep even more people moving and living active lives."
"PRP continues to become a promising treatment for tendon injuries and accelerating post-operative recovery," says Dr. Kevan Ketterling, a fellowship-trained sports medicine orthopedic surgeon at Fox ValleyOrthopedics and the team physician for the Kane County Cougars.
From professional and amateur athletes to the elderly population, many individuals trying to recover from acute and chronic conditions may benefit from PRP therapy.