Dr. Kevan Ketterling to speak at the B Fit B Active Expo on April 22
Triathlon Training: The Principles of Injury Prevention
Dr. Kevan Ketterling is passionate about injury prevention. As a triathlete himself, Dr. Ketterling has a unique perspective on preventing triathlon injuries.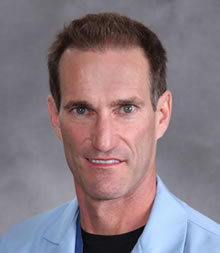 On April 22nd, Dr. Ketterling will share his triathlon injury prevention expertise at the B Fit B Active Expo in Cantigny Park, Wheaton, Illinois. The Expo's maxim – "Before you can be fit, you have to be informed!" – is an ideal Dr. Ketterling wholeheartedly supports.
"I'm a great believer in injury prevention education," says Dr. Ketterling, a sports medicine surgeon at Fox Valley Orthopedics. "Putting patients first means always putting prevention front and center."
As the Fox Valley's first fellowship-trained sports medicine orthopedic surgeon, Dr. Ketterling brings decades of experience and a wealth of practical advice to the athletes he serves.
Dr. Ketterling has helped thousands of athletes recover from sports-related injuries. His specialties include arthroscopy of the knee and shoulder, ACL (anterior cruciate ligament) reconstruction, rotator cuff repair, and minimally invasive surgery and procedures for athletic injuries. He also offers state of the art biologic treatments such as platelet-rich plasma (PRP) injection therapy.
Dr. Ketterling has been the team physician for the Kane County Cougars for twenty-four years, and is the team physician for St. Charles North and St. Charles East High Schools.
Established in 1973, FVO provides a wide range of advanced orthopedic care services including its accredited ambulatory surgery and imaging centers. In 2012, FVO opened OrthoFirst, an orthopedic urgent care center, giving patients same-day access to FVO's fellowship-trained subspecialists for acute injuries.
For tickets go to: B Fit B Active Expo and Luncheon Eventbrite page