How to Choose the Right Pair of Running Shoes
Category: General
Posted On:
Written By:

Dr. Joanna Chura
There is a staggering variety of athletic shoes on the market today, in a wide range of designs and styles specifically suited to different activities and body types. That can make choosing the right pair a challenge. But wearing the proper running shoes can make all the difference, not only in your performance, but in your overall orthopedic health. Choosing the wrong shoe could lead to painful conditions like bunions, hammertoes or even plantar fasciitis.
There are simple tips that should help you find the right pair of running shoes for your style and level of activity and for your overall health.
Step 1: Determine Your Runner's Profile
The first step to finding the right shoe is to consider the type of running you will be doing. A morning jogger's needs are substantially different than a marathon runner's, and you want to choose the shoe that best suits your specific running type. You should also think about where you run. Some shoes are better suited to the track or the treadmill than asphalt or a mountain trail.
Body type also figures into the runner's profile. Running puts three to five times the runner's body weight on their feet, joints and muscles every time they come in contact with the ground, so proper cushioning is essential. Taller and heavier runners will want a shoe with a fair amount of cushion in their sole, while runners with a smaller body frame can get by with considerably less.
Step 2. Determine the Arch of Your Foot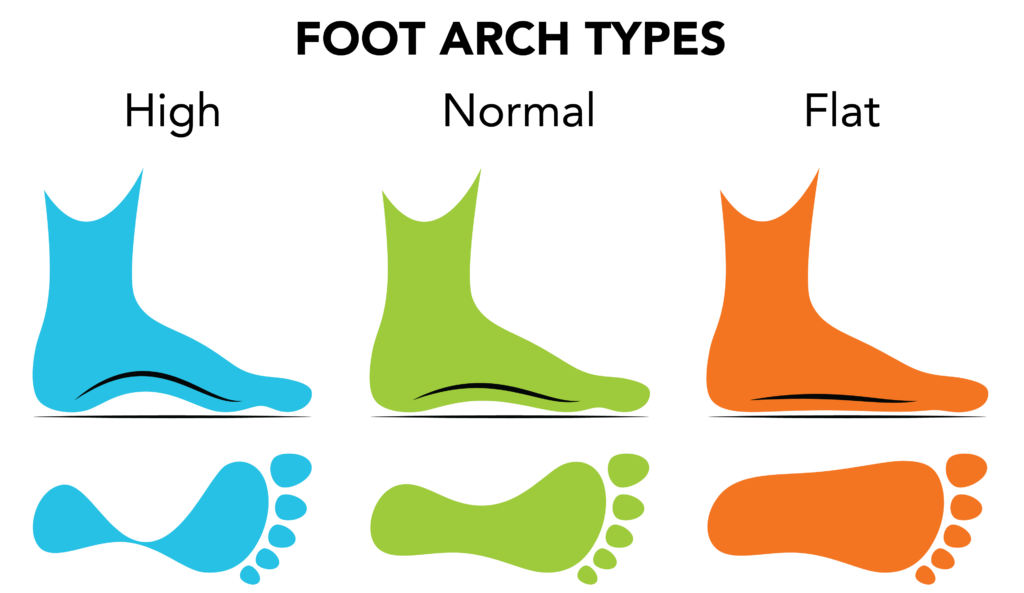 Determining the arch of your foot is an important part of choosing your running shoes. The way your foot strikes the ground plays a large part in determining the type of running shoe you need. For example, a runner with high arches may tend to under-pronate while a runner with flat feet may tend to over-pronate. Either condition can place undue strain on the muscles and joints of the lower leg, leading to pain and possible overuse injuries. How your foot strikes the ground when you run determines the kind of cushioning you will need in your shoes. Many specialty shops will analyze your gait, usually by observing your performance on a treadmill. They can then suggest a shoe design that suits your running style. Be sure to discuss any past injuries you've experienced with the specialist. A history of tendonitis, shin splints, or plantar fasciitis can indicate problems with your gait that can be addressed by the right type of running shoe.
Download this tip sheet for shoes I recommend for runners with high or low arches.
Step 3: Pick the Right Shoe Size
People tend to assume that they know their shoe size, but it is important to remember that feet change over time, and while the changes may be slight they can definitely affect the fit of a pair of new shoes. Whenever you're shopping for a new pair of running shoes have your feet measured, even if you're sure you know your size. It's also worth remembering that every manufacturer is different, and depending on the design, you may need to go up or down a half size or more.
Step 4: 360° Testing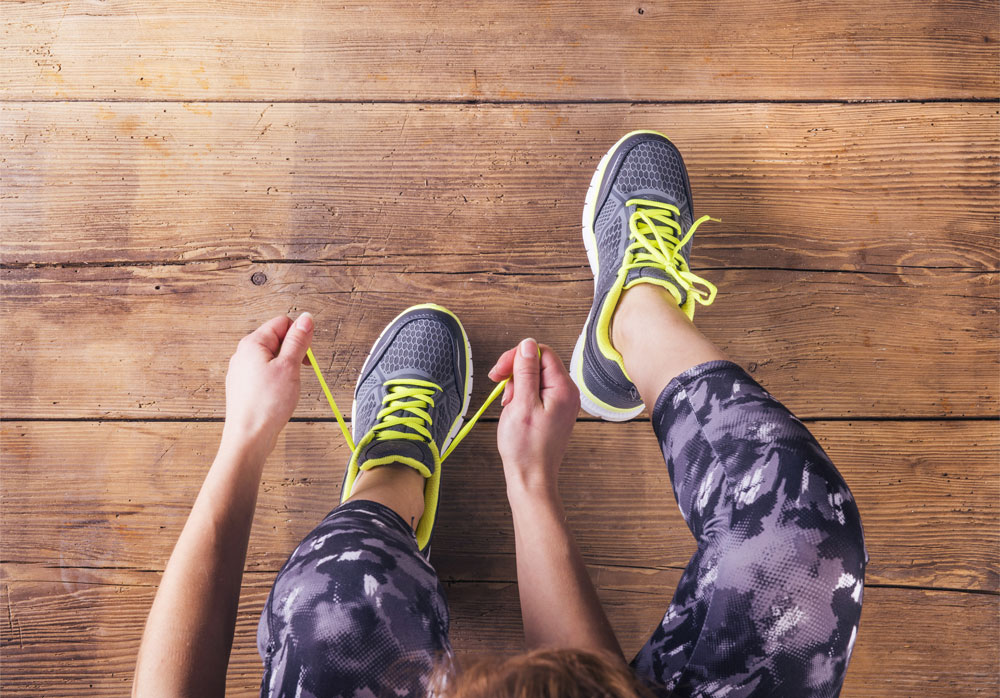 When you are being fitted for a new pair of running shoes the first test is to ensure that there is enough space in the toe box. This is essential in the proper fitting of any shoe, but especially with running gear. It is also important to consider the full 360° fit of the shoe. The whole of your foot should sit comfortably on the platform of the shoe with the entire width of the foot resting securely on the shoe's base to provide total support.
Step 5: Shop Late for a Comfortable Fit
Feet swell over the course of a day and after extended periods of exercise. To ensure a comfortable fit, it is always a good rule to shop later in the day or after a run. Your feet will be at their largest, and you are more likely to find a shoe that will be comfortable and less constricting overall. It's also a good idea to bring an old pair of running shoes with you when you shop. The wear pattern on an old pair of shoes is a good indicator of your gait and your style of running. This information will help the salesperson direct you to the type of running shoe that is best suited to your needs.
Step 6: Try On Several Pairs
After measuring your feet and determining your gait and style of running, the salesperson will likely suggest a variety of running shoes. Take your time and try on several pairs. Don't rush through this part of the purchase. Many specialty running stores will allow you to test drive your choices, giving you time on a treadmill so you can get the feel of the shoes and how your body reacts to running in them. Don't be shy. Try out half a dozen pairs or more until you are sure you have found the pair that meet both your sporting and orthopedic needs.
Step 7: Ignore Fashion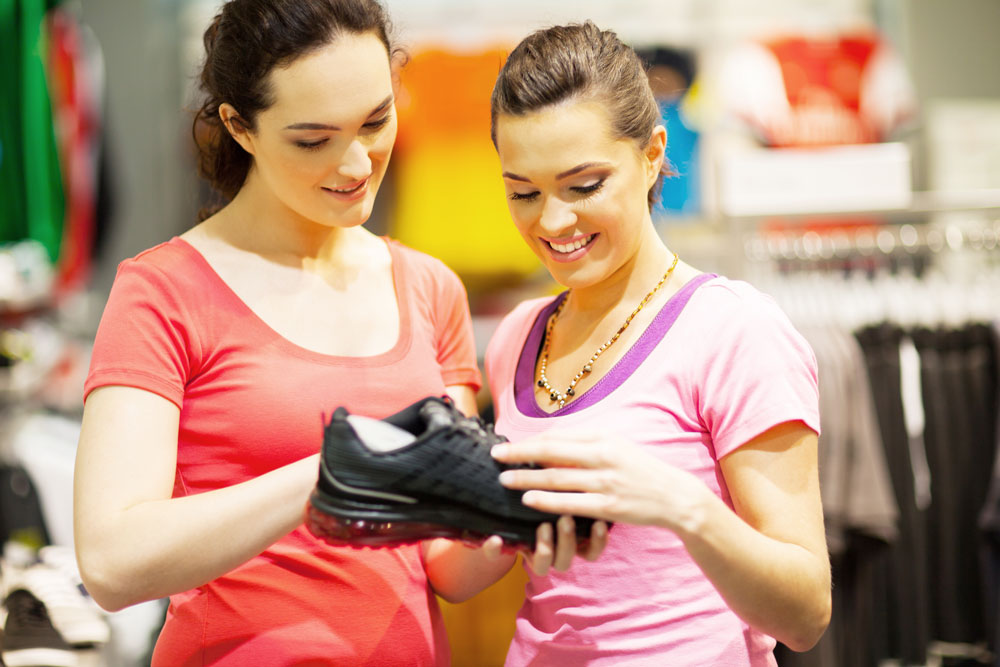 Finally, ignore fashion. High end running shoes have become big business, and while that means greater variety for the customer, it also brings marketing opportunities for the manufactures. A flashy running shoe is not necessarily a good running shoe. For example, many designer running shoes are hourglass shaped. If you look at your feet, that doesn't really match up. Feet are either straight or C-shaped, but manufactures understand that an hourglass shaped running shoe will catch the customer's eye. Don't be swayed. When it comes to finding the right running shoes for your needs, function always trumps fashion.
It's true that shopping for athletic shoes isn't as easy it used to be. Still, if you take the time to think about what you really need and want in a running shoe, the process shouldn't prove that difficult. Above all, it is important to bypass fashion and concentrate on health and performance. Wearing the wrong pair of running shoes can lead to very real consequences, and every runner should always be conscious of the potential for injury. If you take your time, and think about the well being of your body, you can easily find a perfect pair of running shoes that will deliver the performance you desire with the orthopedic support you deserve.