Interview with Dr. Jasper A Petrucci, MD, MBA
Category: Blog
Posted On: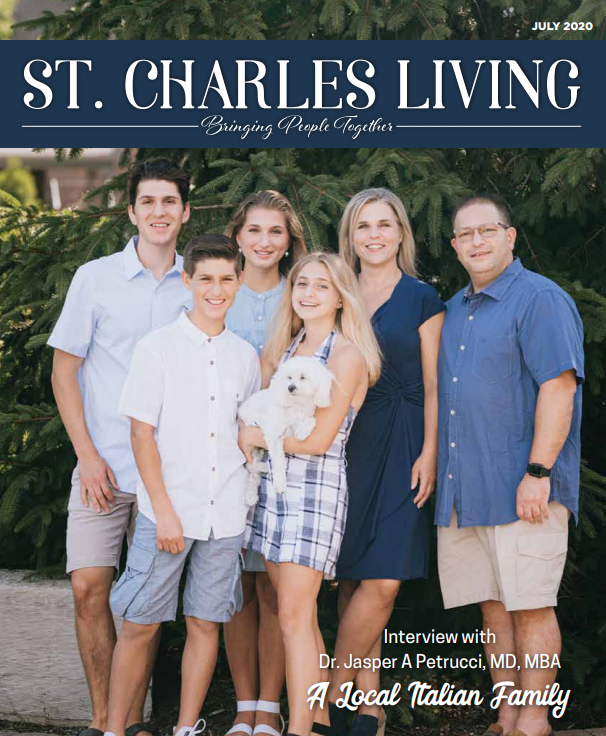 "How did the two of you meet?"

In January of 1995, my father Antonio Petrucci passed away. I was in medical school at the time and moved home to help my mother with the funeral services. My wife Nancy Lynn is from Dixon, the hometown of Ronald Reagan, and during my stay at home, I met her through mutual friends in Elgin. I proposed to Nancy on the last day of a cruise. During the chef's dinner, they brought out the ring in a silver platter for dessert, which said, "Will you marry me?" I did it in front of all the guests at the captain's dinner. Of course, she said yes, and we married before we left together for my residency to The Ohio State on May 9, 1998.
Interesting fact about our wedding date: it occurs on Nancy's birthday, May 9, which often falls on Mother's Day, so all three – our anniversary, her birthday, and Mother's Day – often fall on the same day.
"Where did you both go to school?"
I attended Dundee Crown High School and graduated salutatorian in 1988. I subsequently went to Northwestern University School, McCormick School of Engineering and studied biomedical engineering. I graduated in 1992.
An interesting fact regarding my education is that during high school, I saw a knee replacement being performed. This drove my interest in pursuing orthopedic surgery. When picking a school to obtain my undergraduate degree, I felt that biomedical engineering was extremely important for Orthopedics. The reason is that in biomedical engineering, we study things like biomaterials and biomechanics, things that are pertinent to orthopedic surgery. After completing my engineering degree at Northwestern University, I was accepted to Northwestern University Feinberg School of Medicine in 1992. During my medical school training, I was one of 2 students accepted to the MD MBA combined degree program where you can get a medical degree and an MBA during your studies. At that time, in the 1990's, I felt it was extremely important for physicians to obtain business degrees and help with managing healthcare. I completed my combined degree of MD, MBA in 1998, the same year Nancy and I were married. I then matched for an orthopedic surgery residency at the Ohio State University. I completed my orthopedic residency at Ohio State in 2003.
During that time in Columbus, Ohio, we met many people who became great friends who we still travel to see. We also became avid Buckeye fans during our residency. While there, we had our first child, Antonio, in July of 2001. We then had our second child Adriana in January of 2003. She was born three days after Ohio State won the national championship in football.
Another interesting fact is that I always wanted to practice orthopedic surgery back in my hometown. Therefore, during my last year of residency, even before my fellowship, I found my current job at Fox Valley Orthopedics. I knew they had one of the best reputations of all orthopedic groups in the area and it was close to home. Coming from a large Italian family, I have always wanted to come back home to practice medicine.
After my Ohio State residency, I did one year of specialization at Rush Presbyterian St. Luke's Medical Center where I specialized in total joint surgery. I completed that from 2003-04 and began working at Fox Valley Orthopedics in 2004. Therefore, I have been practicing medicine for 16 years in the Fox Valley area near my hometown Dundee, Illinois. One good thing about my practice is that it is an awesome experience to be able to treat old friends, family members, and school personnel with whom I grew up.
Nancy obtained an associate's degree in science and subsequently finished training in x-ray technology. During our time in Columbus, Ohio, she started out by being an x-ray tech and subsequently managed our orthopedic practice in Columbus, Ohio. Now Nancy has devoted her life and her passion for raising our four wonderful children.​
"How old are your children, and where are they in school?"
Our first child Antonio Petrucci, age 19, is a graduate of Marmion Academy. Antonio has many talents. He is a tenor singer and was one of the first students at Marmion who made State choir two years in a row. He is a crew rower and during high school he was a member of the St. Charles rowing crew. When Antonio graduated from Marmion Academy he received an academic scholarship and is now studying chemical engineering at the University of Alabama, with a secondary major of pre-medicine. He obtained a 4.0 GPA in his first year.
Our second child is Adriana Petrucci, 17. She is going to become a senior at St. Charles North High School this year. She is involved in many school activities such as choir and theatre, as well as many clubs including Student Council, Key Club, and Team Polaris. She is currently working on choosing a college and looking forward to enjoying her senior year.
Our third child is Natalia Petrucci, age 15. She is a sophomore at St. Charles North High School, which she attends with Adriana. She is Student Council Class President, a member of the Girls St. Charles Golf team, and also a member of the same clubs as her sister, including the Key Club and Team Polaris.
Last, but not least, is Giancarlo Petrucci, age 12. He is a seventh-grader at Thompson Middle School. Giancarlo is also a member of the Student Council at Thompson Middle School. He plays competitive travel hockey and is a member of the Central States Team in the West Dundee Leafs Hockey Club.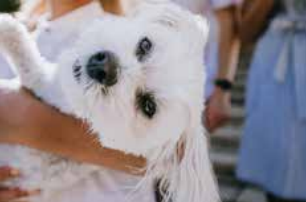 Our pet is Stella, who is a Maltipoo and a member of the family. She is three years old.
"Do you like to travel?"
We love to travel as a family! We take a yearly trip, which we have taken with several of our sisters, and often go to Singer Island, Florida, usually in July. For our immediate family, our last interesting trip was to Maui. Our kids loved it there because there was a significant amount of outdoor activities including surfing, hiking, snorkeling, and boating. Our family likes to travel anywhere tropical. We have been to Hawaii, Mexico, the Cayman Islands, and St. John's.
"Do you have a favorite sports team?"
We are a devoted Chicago sports family! Our family attends many Chicago Blackhawks and Cubs games together. We even like the Bears, even though they have not been very good recently. We are also avid college football fans, and have season tickets to Northwestern. We often travel to Columbus, Ohio for football games. And since Antonio attends Alabama, from a college football standpoint, we have our sports covered! Since we follow three of the top football programs, it makes our fall very interesting. We have been to each of the Blackhawks Stanley Cup finals. This has been one of the greatest sports experiences!
"Where do you live?"
We have lived in the Prairie Lakes subdivision, which is on the west side of St. Charles, for eleven years. We chose to live here because of the community atmosphere of the subdivision. We enjoy living in Prairie Lakes, and the time that we spend with our neighbors. Our neighbors are friendly and many have become like family to us. Kids in the neighborhood attend the same schools and have become extremely close friends and even spend time traveling together.
"You're Italian, right? Tell me some more about your family."
My parents Ines Petrucci and Antonio Petrucci emigrated from Italy in 1970. Therefore, I was conceived in Italy and born in the United States. I have six sisters, five of which were born in Italy and a younger sister born after me in the United States. My parents worked many jobs, often two or three at a time to support our family. I believe that gave me the work ethic that I needed to be an orthopedic surgeon. All of my sisters still live close to each other, all in the Sleepy Hollow and Hampshire region. Three sisters live, literally, right next to each other in Sleepy Hollow.
"As Italians, what's your relationship with food?"
We love to prepare and cook Italian food which we have learned from my mother. We often cook for family and friends! As a family, we also like to support local businesses, and love to eat at local restaurants. We feel that the St. Charles/Geneva area has some of the best restaurants in all of the Chicagoland area.
"I get the sense that family and friends are very dear to you guys."
Oh yes. We love to host and we do a significant amount of entertaining in our home. Our greatest hobby is spending time with family, friends, and neighbors. Coming from an Italian family, I feel that our current family motto is 'to enjoy family and friends.' I feel that if you ask anyone of our neighbors, they would probably tell you that neighbors and friends are always welcome to our house. I feel that we have made it a point and shown that sharing what we have with our family, friends, and neighbors, they always feel welcome. I feel that our house has become the place of gathering where we can all come together.
An interesting fact is that through both sides of our family, our kids have over 30 cousins and often small family gatherings becoming extremely large parties. Our kids are extremely close to their cousins. When we include the cousins and friends and neighbors, our entertaining of guests can easily become very large!
"Thank you so much for being our feature family this month!"​​​
Thank you! We are appreciative of the advertising that supports the local community and businesses and highlights the families that are part of the community. We feel that the St. Charles area, or the Fox Valley area in general, matches our own family's values in that family, friends, and gathering together is the most important thing in life.