Joint Replacement Synonymous with Improved Sexual Function for 90% of Patients, Say Fox Valley Orthopedic Surgeons
Drs. Jasper A. Petrucci and David R. Morawski, surgeons at Fox Valley Orthopedics (FVO), are excited about the findings unveiled at the annual meeting of the American Academy of Orthopedic Surgeons (AAOS) earlier this year.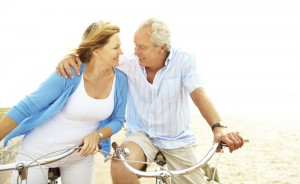 According to survey respondents, total hip (THR) or total knee replacement (TKR) surgery significantly improves sexual function in ninety percent of patients surveyed.
While today it's fairly common knowledge that more than one in four Americans has bone or joint health problems, people often don't talk about the fact that these problems can seriously impair a person's sexual self-image as well as their sex life.
"The survey results support what we've suspected all along," says Dr. David R. Morawski, an orthopedic surgeon at FVO in Geneva specializing in total joint replacement. "It's vital to consider emotional health, including a person's sexuality, when helping someone decide whether or not total hip or total knee replacement is the best option for them."
Greater activity levels, longer life expectancies, and advances in artificial joint technology – and now the benefit of a potentially re-invigorated sex life – have made joint replacement an extremely desirable and viable option when it comes to treating joint problems and disease.
Prior to surgery, the study found that:
Ninety-one percent of those surveyed reported psychological issues related to osteoarthritis;
Fifty-three percent said they'd experienced diminished sexual self-image; and
Sixty-seven percent reported physical problems with sexual activity including stiffness, reduced libido, and inability to attain proper position.
However, after joint replacement surgery, ninety percent of THR and TKR patients reported improved overall sexual function.
"While the findings are extremely good news, it's not all that surprising," says Dr. Jasper A. Petrucci, also an orthopedic surgeon at FVO in Geneva specializing in total joint replacement. "If you're in pain, you're likely not going to have the energy or the inclination to get romantic; patients may not bring the subject up on their own, but sexual difficulties just go with the territory when it comes to joint problems."
The degeneration of joints can be awkward and painful, making it difficult to work or enjoy life. For people experiencing sexual difficulties due to impaired movement or self-image, joint pain, difficulty walking, bending, navigating stairs, or getting in and out of vehicles, chairs, or bed, total joint replacement may be an option worth considering.